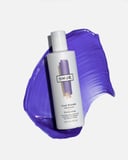 Those with blond hair should use a purple shampoo as part of their regular hair-care maintenance.
Purple shampoo keeps blond hair looking bright and helps eliminate brassiness.
There are many purple shampoos on the market - we rounded up the best.
If you dye your hair blond, you need a good purple shampoo in your shower kit - no exceptions. Blond hair often requires a lot of upkeep, and we're not just talking about salon touchups. After a few washes, it's common for icy- or cool-blond hair to start looking brassy or yellow thanks to harsh chemicals in the water, UV rays, and pollution. That's where purple toning shampoo comes in.
What Does Purple Shampoo Do?
As the name suggests, purple shampoo has a lavender or purple tint to it. The vibrant pigment in purple shampoo specifically cancels out yellow tones - it's like a color corrector, but for your hair.
How to Use Purple Shampoo
No matter what color you dye your hair, you should use a color-safe shampoo and conditioner in the shower. To incorporate a purple shampoo into your routine, simply swap one of the products we rounded up ahead for your regular shampoo. Some purple shampoos can be used daily, while others are designed to be used once a week or every few washes - so it's best to read the instructions. Using it in the shower can help lighten and brighten your hair long after you've left the salon.
From drugstore to professional-grade varieties, shop the best purple shampoos ahead.