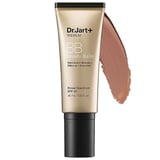 There are a few necessities that every makeup wardrobe should have. A BB cream is one of them, especially for fans of lightweight, natural-looking makeup. For anyone unfamiliar, the "BB" in its name stands for "beauty balm", and the makeup product originates from Asia. They're essentially tinted moisturizers with added skin-care ingredients, giving you more for your buck.
After gaining popularity stateside, many brands came out with their own versions of the product at a variety of price points. BB creams are similar to liquid foundations, but they let your skin's natural texture shine through better due to their super-sheer finish. This is also what distinguishes them from CC creams, which are color correcting creams that tend to be thicker. Depending on the product and the ingredients in it, some BB creams can help soothe and brighten your skin, while others can help control oil and keep shine away all day.
There are benefits to using BB creams year round. In the warmer months, the super-light, natural-looking finish lends itself to spring and summer makeup routines. On the other hand, the hydrating texture of these beauty balms makes them great for dry skin during colder months.
If you're eager to try out the product for yourself, look no further. We've rounded up the very best BB creams for you to check out ahead.