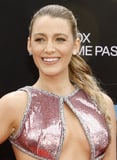 They're back: Blake Lively and Ryan Reynolds made a fashionable red carpet return for the first time since COVID-19 began for the New York City premiere of Reynolds's new movie, Free Guy. For the special occasion on Aug. 3, Lively wore a stunning sparkle pink gown, and we couldn't help but notice how perfectly it complemented her delicate, floral manicure.
Celebrity nail artist Elle Gerstein created the summery nail art design for Lively after collaborating with the star on the idea. "We planned this look about a week ago after having multiple FaceTimes and sending each other mood boards back and forth," said Gerstein. "We usually draw inspiration from the movie promos and try to match the theme, but this time we decided that didn't work. We went off the dress instead, opting for pressed flowers paired with a more rock and roll style. I love that it was innocent with a wild edge, breaking away from what she usually does."
Gerstein painted Lively's rounded gel tips a milky white-gray shade, using LeChat Perfect Match Smoke Show ($16), to create an ombré effect. Then, she layered on a sheer coat of a pink nail polish color called LeChat Perfect Match Simply Me (launching in fall 2021).
"Lastly I took tiny pressed flowers (you can find these at a craft store), soaking them first in alcohol to soften them up and then placing them on the nail," said Gerstein. "This is delicate work and took a little longer than usual as adding the flowers needed perfecting as I had to inlay. They are 3D and you need to case them into the gel."
To finish off the look, Gerstein added additional foil accents to the nails in gold and silver to mimic the shine of Lively's dress. The devil is in the details.
Get a closer look at Lively's press floral nail art, ahead.