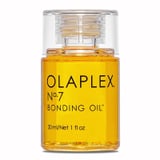 Olaplex has been a cult-favorite hair-care brand for years, and for good reason: hairstylists and editors alike swear by its products for strengthening the hair and undoing the damage from color or chemical treatments. Even though some of the formulas can only be accessed by licensed professionals at the hair salon, the brand's at-home products have become favorites among beauty enthusiasts all over TikTok thanks to its reparative properties.
"Olaplex 1, 2, and 3 do one simple gigantic thing: they all relink broken disulfide bonds," celebrity hairstylist Chad Kenyon once told POPSUGAR in a previous article. Each of Olaplex's eight products contain a special molecule that helps repair broken bonds in the hair, essentially making it look and feel healthier after each use. The products are safe to use on all hair types, but they work best on hair that's damaged from excessive heat, chemical processing, or both.
If you're familiar with the brand but unsure of how and when to use each of its products for your individual hair type, read ahead for a quick breakdown of everything Olaplex.