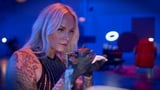 Tattoo removals and coverups - specifically those among celebrities - have been a big source of interest for us lately, so you could say that Netflix's latest reality series Tattoo Redo debuted at just the right time. The brand-new show follows five established tattoo artists tasked with taking some of their clients' most embarrassing or regrettable pieces of ink and working their magic to transform them into masterpieces.
According to the trailer, the tattoos in question range from incorrectly translated foreign language tattoos that are (somehow) still extremely common these days to others that have simply faded or lost their meaning over time. The big twist of the show is that each coverup design will be chosen, not by the clients receiving them, but by their loved ones - and even though that sounds like a recipe for chaos, the show's cast of trusted tattoo masters managed to make each new design work well.
Before you dive the episodes, which are now available to stream on Netflix, read ahead to get to know each of the tattoo artists featured on Tattoo Redo. Spoiler: you may already be familiar with a few of them.