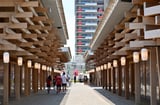 With the 2021 Summer Olympics in Tokyo well underway, TikTok is being flooded with videos from athletes talking about everything from infamous cardboard beds to the free swag competitors get. Another topic that's getting a lot of attention this year is the Olympic Village and the many stores and attractions it contains. Unbeknownst to viewers tuning in from home, it has everything the athletes could possibly need during their stay, including a post office, multiple gyms, souvenir shops, and a full-service hair and nail salon.
Erica Ogwumike, a member of the Nigerian national basketball team, shared a quick glimpse at the beauty salon in a TikTok video detailing how she spends her free time in the Olympic Village. In the video, set to Olivia Rodrigo's "Deja Vu," Ogwumike gets a fresh manicure from a nail technician in the salon. Team USA rugby player Cody Melphy and Japanese fencer Kaito Streets, on the other hand, both made videos of their experiences getting haircuts at the salon. Melphy even tagged his barber, Aki (@barber_stylist_aki on TikTok).
According to the menu that Melphy shared in the short video, the hair salon offers three services - haircut, shampoo, and blow-dry; shampoo and blow-dry; and shaving - and best of all, the athletes get them for free. Now it makes so much sense why the Olympians always look so good.
Ahead, watch the TikTok videos of the Olympic hair and nail salon for yourself.