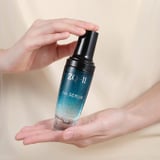 Beauty-lovers, get ready for some excitement. We discovered that Amazon has a secret overstock section filled with amazing deals and steals on all things beauty. We're talking discounts on makeup, skin-care, hair care, and more - this section truly has it all. Whether you need to invest in new makeup brushes or want to treat yourself to a gorgeous new eyeshadow palette, we've got you covered.
Revamp your skin-care routine for the winter time with hydrating products featuring hyaluronic acid. If you like to do your nails at home, get an UV LED nail lamp for gel manicures. When you want to switch up colors, take off your gel manicures easily with the Aliver Nail Polish Remover that removes gel nail polish in just three to five minutes. Make your beauty routine more sustainable with a set of reusable cotton rounds that you can use for gently removing makeup or applying toner.
We rounded up the best beauty deals on the overstock section ahead. Add these finds to your carts ASAP, these discounts don't stick around forever!
- Additional reporting by Macy Cate Williams