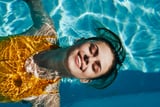 The sun isn't the only thing you should be protecting your hair from in the summertime. We're officially in the midst of swimming pool season, and whether you're a seasoned swimmer or you just like to take an occasional dip in the water every now and again, a day at the pool (and the chlorine you're bound to come in contact with) can do some real damage to your hair if you're not careful.
"Chlorine is a disinfectant, so it strips the natural oils from the hair, making it prone to breakage," celebrity hairstylist Chad Kenyon told POPSUGAR. "It's known to dry out the hair, leaving it looking fried and brittle. So before you get into a chlorinated swimming pool, it's so important to rinse your hair with fresh water, as your hair will absorb the fresh water first and slow down the absorption of the chlorine."
If you can't rinse your hair beforehand, Kenyon recommends washing your hair with a bond-building shampoo (and following up with a conditioner) to get the chlorine out of your hair. You can also opt for a clarifying shampoo to really rid your hair of all kinds of product and buildup. And if you're looking for some options to keep your hair chlorine-free all summer, keep reading.