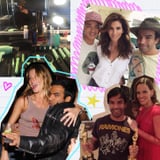 Welcome to Big Break, where some of the most influential figures in the beauty industry reflect on the moments that made them - from the good to the bad and everything in between. Here, celebrity hairstylist, beauty entrepreneur, and Goldwell brand ambassador Harry Josh shares the moments that brought him into the supermodel world and how he's not slowing down anytime soon.
You know how Gisele Bündchen, back in Victoria's Secret fame, was known for her most perfect head of hair? People flocked to the salon with her photo pulled up on their iPhones; headlines about "How to Get Supermodel Beach Waves" emblazoned nearly every beauty website. Well, Harry Josh was the driving force behind all that.
Except he almost wasn't.
Growing up in Vancouver, Canada, to immigrant parents from India, Josh never saw himself represented in the fashion or hairstyling space. "My father worked at 7-Eleven and drove taxis. My mother went to English school so that she could get a job as a receptionist or a secretary," he told POPSUGAR.
All of this is to say: "We grew up in that very migrant mentality, but you were only a tastemaker in the fashion or entertainment industry if you were European - not someone from the same part of the world as me or with the same type of family as me. My mindset could have been, 'I guess that's never going to happen,' but instead that lit a fire in me of like, 'Why not me?' I wanted to be known as someone who was cool and could do cool things and have good taste, so that was a big part of my desire to be in this industry."
His parents, on the other hand, were utterly against it - "they were like, 'You absolutely have to be a lawyer, doctor, engineer.' That's just what Indian kids do," he said - and enrolled Josh in college despite his objections. In a way, it's what led him to his first gig in hairstyling: on the first day of school, he skipped class with friends to head into downtown Vancouver. The bus dropped them off in front of a cool, new-wave salon.
"It was the most high-fashion spot in Vancouver; there were really good-looking people dressed very stylishly, with bleached-blond hair, black Mohawks, lots of eyeliner," Josh said. "I loved it, and I knew I didn't want to sit in a classroom, so I did this."
One day hanging outside smoking cigarettes turned to two, then three, then a week. Eventually, the salon owner came out and offered him an apprenticeship in exchange for work. "From that morning on, I would take my school books to the hair salon, put them in the dispensary, and worked during the day," he said. "My parents had no clue this was going on for months."
"I wanted to be known as someone who was cool and could do cool things and have good taste."
Finally, he worked his way up to assistant level (earning the unofficial title of "superstar assistant"), then to junior stylist. Before he turned 18, he was making decent money doing trims and selling products at the salon. This, he decided, was what he wanted to do with his life full-time - which meant it was time to tell his parents.
"It was horrible, and they were so upset," Josh said. "They told me I was wasting my future, and I can appreciate that because there wasn't anyone ahead of them to show them that I had a chance of succeeding. For them, it's about getting an education, clean bed, water, and food. I wanted more, so I moved out and carried on with my training."
Back then, Josh was what he calls "delusionally optimistic," and his newfound purpose inspired him to set his sights higher. After working at the salon for more than a year, he had a new goal: do the hair for magazine photo shoots. Being in fashion was, after all, his biggest dream. So he packed his bags, told his parents he was going on vacation, built his portfolio using test home pictures from his phone printed from the drugstore, and moved to South Beach, FL.
"I very much believed I had some serious skillset, which I did not," he said. "I was in for a rude awakening."