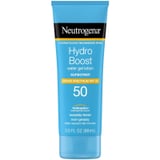 Shopping for new makeup, hair, and skin-care products can be expensive, but right now during Ulta Beauty's Summer Beauty Sale you can score major deals on some of your favorite brands. As temperatures and humidity reach a high and beach days become plentiful, it's the perfect time to fulfill all of your sun-care needs and revamp your beauty stash so you can keep up with all of the latest trends.
Some of our favorite summer swaps to make in our routine include switching to a light gel moisturizer as opposed to a heavy cream, stocking up on bronzer and self-tanner to help us fake a sun-kissed glow without any of the harmful UV damage, and grabbing a bright lipstick or two to replace our neutral spring shades. The Ulta Beauty Summer Sale runs until July 4, so there are only a few days left to save.
If any beauty retailer knows how to put on a good sale, it's Ulta Beauty. Between its iconic 21 Days of Beauty Sale to its Love Your Skin and Gorgeous Hair Events, the store gives you plenty of opportunities to restock on your beauty must-haves and discover new products year-round.
Shop our editor picks from the 2021 Ulta Beauty Summer Sale event.