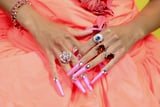 The summer months are all about experimenting, whether it's with your hair, your makeup, or anything in between. If you want to spruce up your nails but don't have a steady enough hand to paint on the latest nail-art trends, consider an even sexier option: changing your nail shape. It's true; there are a handful of super-sexy nail shapes that deserve your full attention this season.
"Different looks can be sexy depending on the occasion," LeChat Nails educator Syreeta Aaron told POPSUGAR. "If you're going on vacation, simple is sexy, so go with a very short, natural, square rounded shape. You don't want anything too high maintenance when you're on the go - a broken tip isn't sexy."
Aaron also noted that classic nail shapes like almond can stand out as being on the cooler, more flirtatious side, while the "edge" nail shape is a newer trend that's just as bold as it sounds. If you're looking for options, take a closer look at a few examples of some sexy nail shapes ahead.