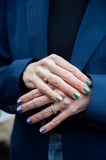 There are endless nail designs you can choose for St. Patrick's Day.
You can go traditional with lots of green or unconventional with spring pastels.
Here, you'll find St. Paddy's Day manicures that you'll want to rock even after the 17th.
If you love getting your nails done, here's another reason to take a trip to your favorite salon. With St. Patrick's Day on the horizon, you may be on the hunt for the cutest nail ideas that'll be sure to get you in the holiday spirit. If you're worried about getting pinched by a leprechaun this St. Paddy's Day, add the perfect touch of shamrock green to your ensemble with a festive manicure.
There are plenty of St. Patrick's Day nail-art designs to choose from - go for a leprechaun, a four-leaf clover, a rainbow, a pot of gold, or even an unconventional design - to ensure your nails are looking magical on March 17. From a play on classic french manicures to glitter polish, these are the St. Patrick's Day nails that you'll never get tired of. Even if you don't have any plans to celebrate, the holiday is always a good reason to change up your nails. It's amazing how much a good manicure can boost your mood, and these ideas we've rounded up are no exception.
Whether it's a simple green nail polish on your natural nails or something a little more intricate on an almond-shaped acrylic set, keep reading for endless inspiration for St. Patrick's Day nails.